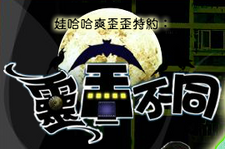 靈舍不同 (Hong Kong Ghostbusters) was a Black situation comedy sitcom that ran on Asia Television Limited (ATV). The show was only in Chinese language. It was not related to the sony franchise.
Introduction
Edit
Note before reading this section, the show is only about the title for us. No ghosts to be busted here.
From Wikipedia:
"The story takes place in public housing known as Kowloon. In it's 40 years history, a lot of supernatural things have happened. Mei Qi neighbor, Liu Zhipeng haas a crush on her, but her dead mother, Mrs. Zhong is against the relationship. Public housing and ghosts, from misunderstanding to understanding, from confrontation to help, everyone must learn help out each other's difficulties and learn to "love and be tolerant" of each other if they hope to defend the building against possible demolition."
Ultimately, the show has the characters, living tenants and ghosts learning to deal with each other as they have a common threat of losing their home.
Characters
Edit
Some information taken from Wikipedia with a google translation. Other taken from official website for 靈舍不同

Liu Zhipeng- Son of Liu Ye, in love with Mei Qi
Mei Qi- Piano teacher, has feelings for Liu Zhipeng, Zhongsao daughter
Liu Ye- father to Liu Zhipeng, Yumei Ren's son, COCO's adoptive father
God Phoenix- psychic
Wen Wentao- District Councilor
Yumei Ren (ghost)- Liu Ye's mother, Liu Zhipeng's grandmother
Zhong Sao (ghost)- Mei Qi's mother
Cloud shadow Chang (ghost)- senior doctor
Little white light (ghost)- miscellaneous arts groups and hobby singing (she wears the cape)
Yin Guangming (ghost)- King of Ghosts
Li Wanji- Real estate rich business
Aberdeen- works for Li Wanji
Retired firefighter- Lost wife in fire, has a connection to God Phoenix
COCO- Liu Ye's adopted daughter, Liu Zhipeng's adopted sister
External Links
Edit
Secondary Canon
Edit
Ad blocker interference detected!
Wikia is a free-to-use site that makes money from advertising. We have a modified experience for viewers using ad blockers

Wikia is not accessible if you've made further modifications. Remove the custom ad blocker rule(s) and the page will load as expected.