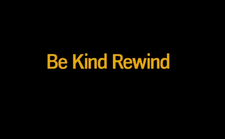 Be Kind Rewind
is a motion picture movie released in theaters in United Kingdom on February 15, 2008 followed by America a week later. It is a comedy film from New Line Cinema, written and directed by Michel Gondry and starring Jack Black, Mos Def, Melonie Diaz, Danny Glover and Mia Farrow.
Relation to Ghostbusters
Edit
The follow characters reenact Ghostbusters; Mike Coolwell (Mos Def), Jerry Mclean (Jack Black), and Wilson (Irv Gooch).

They reenact the librarian being spooked in the opening.
Jerry incorrectly sings the Ghostbusters Theme Song:

When you're walkin' down the street...
and you see a little ghost...
whatcha gonna do about?
Ghostbusters!

Library ghost being confronted.
Peter being slimed at Sedgewick Hotel.
They act out the tv ad in the movie while Wilson acts like Dana.
Faking the bell and sliding down the pole.
Faking very badly them leaving (at night) in the Ecto-1.
Spoofing the scene where Peter encounters Dana possessed by Zuul, which then goes into the scene where the Ghostbusters think they got Gozer.
They with miniatures reenact Stay Puft and the Ghostbusters dealing with it by throwers.
They then reenact the Stay Puft mess covering the crowd and a Ghostbuster.
Sigourney Weaver makes a cameo as one of the two court bailiffs, which have the movies destroyed.
References
Edit
Ad blocker interference detected!
Wikia is a free-to-use site that makes money from advertising. We have a modified experience for viewers using ad blockers

Wikia is not accessible if you've made further modifications. Remove the custom ad blocker rule(s) and the page will load as expected.