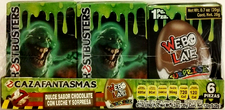 Cazafantasmas Webo Late Chocolate Eggs with Surprise are type of chocolate egg with a random item in inside. Produced by Bondy Fiesta and released in Mexico to promote Ghostbusters in theaters 2016.
Eggs include one of the following prizes:
Ghostbusters Team keyring
Stay Puft Balloon keyring
Slimer keyring
Slimed No-ghost keyring
Flying Ghost keyring
Ad blocker interference detected!
Wikia is a free-to-use site that makes money from advertising. We have a modified experience for viewers using ad blockers

Wikia is not accessible if you've made further modifications. Remove the custom ad blocker rule(s) and the page will load as expected.