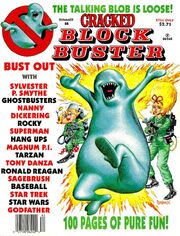 Cracked Magazine is a now-defunct humor publication that was founded in 1958. Though often labeled a "knock-off" of its main competitor, Mad Magazine, it developed a cult popularity and continues to enjoy significant traffic on its spin-off website, Cracked.com. The magazine also had several annual released publications, such as Cracked Collector's Edition, Cracked Monster Party and Cracked Blockbuster, as well as foreign language editions, such as Kaputt and Stupid in Germany, and Cracked British Edition in the UK.
The Ghostbusters were among the many franchises parodied regularly within the magazine's pages.
Cracked Blockbuster issue 2 features a short cameo of Egon Spengler, Ray Stantz and Peter Venkman as "Blobbusters". They are responsible for capturing one of Cracked's iconic characters, The Talking Blob.
Cracked Collector's Edition issue 102 features a Dr. Strangelove parody entitled "On the Beach the Day After with Dr. Strangelove or How I Learned to Live with and Love Roaches". It features a number of re-imagined pop culture characters who are attempting to stop a nuclear tragedy involoving giant cockroaches. Among the story's protagonists are versions of Egon Spengler and Peter Venkman, who discover that radiation stimulates growth in roaches. Before they are able to report their findings, they are caught in a nuclear explosion.
The front cover of Cracked issue 249 has Peter Venkman looking-up at a Slimer-like ghost of Cracked's mascot, Sylvester P. Smythe. Inside, it features a number of Ghostbuster parodies including: "Ghostbugger Gear" (spoof of Ghostbusting equipment), "Guest Duster" (a Real Ghostbusters parody), and "Ghostbugger Shut-ups". The inside back cover has a portrait of Sylvester P. Smythe as Slimer.
Cracked issue 258 has an article entitled "The Last Issues of Popular Comic Books". In the last issue of "Gasper, The Slimey Ghost", which is a parody of Casper the Friendly Ghost, the title character is blasted away by the Ghostbusters.
Cracked Monster Party issue 12 has a monster election storyline, featuring King Kong as the victorious candidate. The inside covers of the issue show a victory party, filled with hundreds of ghouls and monsters. In attendance is the Statue of Liberty, who is dancing with Kong. The four Ghostbusters are visible atop lady liberty -- reminiscent of the film, Ghostbusters 2. On a nearby balcony, Slimer fraternizes with ghouls.
The Ghostbusters and Slimer feature prominently on the cover of Cracked Super issue 3.
External Links
Edit
Ad blocker interference detected!
Wikia is a free-to-use site that makes money from advertising. We have a modified experience for viewers using ad blockers

Wikia is not accessible if you've made further modifications. Remove the custom ad blocker rule(s) and the page will load as expected.