Extreme Ghostbusters Prototype Action Figures
Talk

0
Share
Ad blocker interference detected!
Wikia is a free-to-use site that makes money from advertising. We have a modified experience for viewers using ad blockers

Wikia is not accessible if you've made further modifications. Remove the custom ad blocker rule(s) and the page will load as expected.
The Extreme Ghostbusters line had Prototypes that Trendmasters never released. Currently we are aware of a Garrett Miller toy.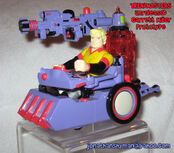 Trendmasters did a prototype of the Garrett Miller figure. Garrett's wheelchair here is completely modified to have a massive ray gun or missile launcher instead of what is seen on Extreme Ghostbusters, and would not fit in the Ecto-1 Cruiser. His hair is also a lighter shade then his actual animated look, which was often the case with any prototype Trendmasters made before the final colors were established. This unique piece is most likely a one of a kind prototype, which was used as a Toy Fair Paint Master Sample, since it's completely done up, like most Toy Fair Samples." (Note: All information and images are provided by Jonathan Shyman)