The Fire Beasts are small, animal-like ghosts that spread fire all around them. These critters, along with three much more sinister ghosts, started a fire in a Woody House. They usually appeared out of fire. Some of them were blue-colored and unable to be defeated or captured in any way. All of them vanished when other, more powerful ghosts were defeated and the fire stopped.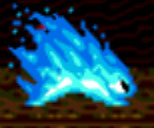 Ad blocker interference detected!
Wikia is a free-to-use site that makes money from advertising. We have a modified experience for viewers using ad blockers

Wikia is not accessible if you've made further modifications. Remove the custom ad blocker rule(s) and the page will load as expected.