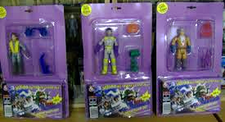 While the series was broadcasted on german Televisions there were 7 Tapes each containing one episode which came with a German toy to the Germany The Real Ghostbusters Toy Line. Each package was done very minimalistically, featuring no artwork for the toy itself, and having nothing printed on the back of the packaging.
Known Figures and VHS's
Edit
Note that currently it is unknown how to know which video came with which figure. The video episodes are not noted on the packaging, nor is the figure given a description. Known figures with VHS's
Known episodes on VHS's:

Note, that three images were provided by request from fan Ettore Holle.
Ad blocker interference detected!
Wikia is a free-to-use site that makes money from advertising. We have a modified experience for viewers using ad blockers

Wikia is not accessible if you've made further modifications. Remove the custom ad blocker rule(s) and the page will load as expected.