The Real Ghostbuster Toy Line is the Toy line in the German based on the The Real Ghostbusters. The toys and packaging is directly copied from the UK counterpart and translated in German.
Description
Edit
The German Toy Line ran from 1987-1990 like the other lines based on the UK line. Among the notable traits is the Lion seal and yellow bar code on the back of the card, which is used on all UK line based toys.
List of Toys
Edit
First Wave
Edit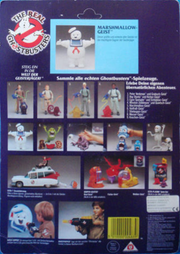 Second Wave
Edit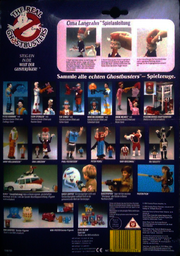 Note that some toys were sold with VHS's. Known toy's with VHS's are noted below.
Third Wave
Edit
It has been concluded that Wave three for the most part didn't happen, due to events happening in Germany at the time. A few items did get made, but most of them didn't, including "Super Fright Feature Heroes", "Monsters", and "Screaming Heroes".
Fearsome Flush did get a release, but on the back of the card it is noted next to many items "Nicht in der BRD Erhaltlich" which means "Not in Germany Obtainable". So many toys that usually saw a release in other european countries didn't get a release Germany.
Note, some were translated in the following year on the back of that years card, this is likely cause they were following the template provided by the UK brand.
Fourth Wave
Edit
Ad blocker interference detected!
Wikia is a free-to-use site that makes money from advertising. We have a modified experience for viewers using ad blockers

Wikia is not accessible if you've made further modifications. Remove the custom ad blocker rule(s) and the page will load as expected.