Ghost Smashers
Talk

1
4,627pages on
this wiki

Ghost Smashers[1][2] was the first script for what would become "Ghostbusters". It was conceived by Dan Aykroyd as a vehicle for himself and for his friend and fellow Saturday Night Live alumnus John Belushi, similar to Blues Brothers.
Differences
Edit
The Ghost Smashers as written by Dan Aykroyd was very different than what would be eventually be filmed as "Ghostbusters". In this version a group of ghost hunters would travel through time, space and other dimensions taking on ghosts.
Equipment
Edit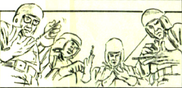 Note, most of this is taken directly from the 2005 DVD box set booklet and 1999 DVD section on Storyboards, which both featured storyboards based on this version of the movie. The designs were present in the storyboards, but the story had already changed it was based on.
Uniform- The outfits were lightweight normal janitor type pants and shirt. Name tags on right side of upper-chest. (like later on in film)
Helmet- Looks like a Riot gear type of helmet with a transparent visor that can be lifted up.
Gloves- Much like the Electrical Gloves seen in the film, except with built in Nutrona Wands.
Proton Pack- In the first script it was a back mounted power source with think black cords going to the wands.[3]
Equipment Belt- The belt had a compartment on the left side that would release the ghost trap when the wearer jerked his right leg.
2 Nutrona Wands(one for each hand)- The wands are extendable like antennas, and could be adjusted from palm area of the gloves. They functioned much like the particle throwers in the films. The wands were activated by an elbow toggle switch on the backpack. The wands emitted phosphorescent beams of red and green light.[3]
Ghost Trap- The ghost trap, much like the movie version, is a pedal connected by cord to the box. The foot pedal looked more like one from a piano. The metal box is a bit more like a metal box than what the ghost trap became. The trap also had a chain link-like handle to pick it up and 3 indicators.
Cast Planned
Edit
More about casting can be found here.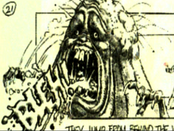 Order is unknown, so they are listed as they appeared in final film. Note that the only ghost shown in storyboard form during "Ghost Smashers" phase is Slimer. Note that the story had already changed to the Sedgewick Hotel from the Greenville guest house.
Dan Aykroyd pitched his story to director/producer Ivan Reitman, who liked the basic idea but immediately saw the budgetary impossibilities demanded by Aykroyd's first draft. At Reitman's suggestion, the story was given a major overhaul and what would later end up Ghostbusters.
External Links
Edit
References
Edit