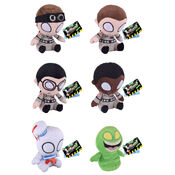 Ghostbusters: Mopeez Set are of plush set that will be released by Funko in June of 2016. The line is made based on the first movie.
List of Toys
Edit
Stay Puft Marshmallow Man
Slimer
Egon Spengler
Peter Venkman
Raymond Stantz
Winston Zeddemore
Display Case

Includes:(4) Stay Puft Marshmallow Man, (2) Slimer, (2) Egon Spengler, (2) Peter Venkman, (1) Raymond Stantz, (1) Winston Zeddemore
External Links
Edit
References
Edit
Promo Images
Edit
On Display
Edit
Ad blocker interference detected!
Wikia is a free-to-use site that makes money from advertising. We have a modified experience for viewers using ad blockers

Wikia is not accessible if you've made further modifications. Remove the custom ad blocker rule(s) and the page will load as expected.