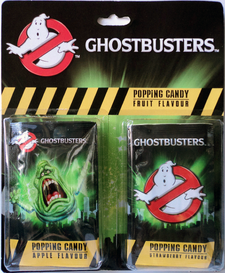 Many Ghostbusters candies are currently being released in the late fall/early winter of 2015, produced by World of Sweets in the United Kingdom.
List of Products
Edit
Note, this list still in development. Many items may be missing from the list.
Ghostbusters: Popping Candy

8 Pack: (4) Apple Flavour, (4) Strawberry Flavour
50 Pack: contains Apple Flavour and Strawberry Flavour packs

Ghostbusters: Choc Discs - Milk Chocolate Shapes
Ghostbusters: Slimer Chocs - Goo Filled Milk Chocolates
Ghostbusters: Jelly Lollipops - Jelly Lollipops With Icing
Ghostbusters: Stay Puft Marshmallow Lollipops
Ghostbusters: Slimer Edible Ectoplasm
Ghostbusters: Photon Beams Sour Fruit Flavour Sugar Coated Laces
Ghostbusters: Jellies Bag
Ghostbusters: Interactive Jellies
Ghostbusters: Slimer Jellies
Ghostbusters Protom Beams: Picture Projector & Candy (2016 film based designs)

Cherry Blaze (Slimer light)
Strawberry Storm (Stay Puft light)
Raspberry Strike (No Ghost Logo light)

Ghostbusters Laser Pops: Picture Projector & Candy (classic based designs)

Cherry Blast (Slimer light)
Strawberry Burst
Raspberry Rage
Ad blocker interference detected!
Wikia is a free-to-use site that makes money from advertising. We have a modified experience for viewers using ad blockers

Wikia is not accessible if you've made further modifications. Remove the custom ad blocker rule(s) and the page will load as expected.