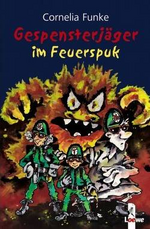 Ghosthunters (original title was in German: "Die Gespensterjäger") was a book series by author Cornelia Funke is a German book series that also appears in many markets including a limited English markets. It is aimed at young boys ages 5-7. The Book series has had a four book run. There was also a children's motion picture "Ghosthunters: On Icy Trails", which is based on the first book of the series.
List of releases
Edit
Note that the German version is the original versions and usually the most commonly known titles.
Introduction
Edit
Characters
Edit
References
Edit
External Links
Edit
Ad blocker interference detected!
Wikia is a free-to-use site that makes money from advertising. We have a modified experience for viewers using ad blockers

Wikia is not accessible if you've made further modifications. Remove the custom ad blocker rule(s) and the page will load as expected.