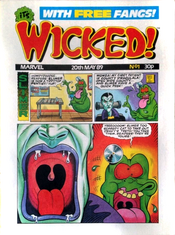 It's Wicked! series
was a UK published comic series. It was not reprints, but original content which was rare for
Marvel UK
. It featured Slimer for the run as the star cover character.
Strips Featured
Edit
Slimer (as in "Blimey, It's Slimer" design and character)
Ghosthunters (unrelated to Ghostbusters)
Mummy's Boy
Gordon Gremlin
Nursery Nightmares
Toad in the Hole
The Living Ted
Billy Bones
Grotty Lotty
Inspector Spectre
Ghostman Bat and his Black and White Rat
Clare Voyant
Best of Fiends
Dunstable D. Dragon
Winnie the Witch Doctor
Ghoul School
List of Comics
Edit
The comics print run went from issue #1 (May 20, 1989) - #17 (September 9, 1989). Note they were released weekly for the run.
References
Edit
Ad blocker interference detected!
Wikia is a free-to-use site that makes money from advertising. We have a modified experience for viewers using ad blockers

Wikia is not accessible if you've made further modifications. Remove the custom ad blocker rule(s) and the page will load as expected.