Ad blocker interference detected!
Wikia is a free-to-use site that makes money from advertising. We have a modified experience for viewers using ad blockers

Wikia is not accessible if you've made further modifications. Remove the custom ad blocker rule(s) and the page will load as expected.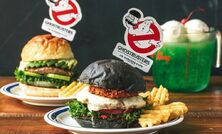 J.S. Burgers Cafe is a Japanese restaurant chain owned by the company BAYCREW with four locations in Tokyo, Japan.
As a marketing promotion for the Ghostbusters 30th anniversary, J.S. Burgers Cafe offered ghost-inspired hamburgers, a marshmallow man sundae and "monster" cream sodas served in measuring cups starting in October 2014. [1]
On June 24, 2016, J.S. Burgers Cafe unveiled a new menu of Ghostbusters-themed food: The "G.B. Burger," that has a black olive and anchovy paste and is 1580 yen, the "Marshmallow Mad Burger" is a dessert burger that switches meat for roasted marshmallows, is topped with Oreo's and some sort of gelatinous red sauce and is 1280 yen, "Black Chilli Chips" for 780 yen and a green kiwi smoothie. They will be offered between July 1 and September 30 at the Shinjuku, Shibuya, Harajuku and Ikebukuro stores. There will also be more collaboration merchandise such as T-shirts and an eco-bag with a hamburger design on it. [2] [3]
List of Items in Promotion
Edit
Ghostbusters 30th Anniversary
Edit
Black Buns Mozzarella Burger with Spice Tomato Sauce
Avocado Rich Burger with Green BBQ Sauce
Marshmallow Sundae

Contents: Melon flavored soda, three scoops of ice cream and a cherry on top [4]
Price: 630 Yen

Monster Cream Soda

Contents: Coconut, granola, ice cream, two kinds of yogurt, and topped with strawberry sauce [5]
Price: 780 Yen

Fire King Collaboration Mugs
T-Shirts

Black, Gray, or White
Price: 4500 Yen

Stickers
Ghostbusters 2016
Edit
G.B. Burger

Contents: Black Olive and Anchovy paste
Price: 1580 Yen

Marshmallow Mad Burger

Contents: Switches meat for roasted marshmallows, is topped with Oreo's and some sort of gelatinous red sauce
Price: 1280 Yen

Black Chilli Chips
'Green Kiwi Smoothie'
T-Shirts
Eco-Bag
On page 15 of Ghostbusters International #1, in panel 1, under the traffic signal is a two way ad, on the right is the Ghostbusters x J.S. Burgers Cafe menu
External Links
Edit
References
Edit
30th Anniversary Promotion
Edit
2016 Movie Promotion
Edit
Secondary Canon
Edit