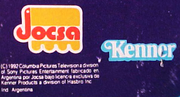 Jocsa: The Real Ghostbusters
Toy line was made by Jocsa from the country of Argentina, which were released in 1992. It was mostly related to the
Animated Series
. It is more like license to reproduce
Kenner line
of the Toy line. Oddly they also used the
Classic Ghostbusters Toy mold
to make some of the lineups. Seemed they only used already handed down production stuff including Art and promo pictures.
Mixed Lineages
Edit
Unlike the other reprints, this line of reprints reuses designs from both the American and UK base designs. In the case of Highway Haunter, it reuses stickers and box designs from the Brazilian reprint line. Because of these factors, it appears that this was the last reprint line for the Kenner toys line.
List of Toys/Items
Edit
This list is not completely confirmed. Some items have numbers but were not made and instead were imported. "Packaging" means that the item with with the Jocsa logo has surfaced.
Classic Heroes Variations
Edit
This list is of known variations and may miss some or count them differently from some sources. No site has surfaced that seems to know all variations.

Item Name
Item # and Label
Notes
Classic: Egon Spengler
(#636) Version 1, Variant #1
Egon Figure: no under shirt paint & no arm band paint, /Proton Pack with green proton beam/ Wrapper Ghost standard solid purple [1] [2] [3]
Classic: Egon Spengler
(#636) Version 2, Variant #1
Egon Figure: white under shirt & grey arm band, /Proton Pack with light orange proton beam/ Gulper Ghost standard solid mustard yellow [4] [5]
Classic: Egon Spengler
(#636) Version 2, Variant #2
Egon Figure: white under shirt & grey arm band, /Proton Pack with light yellow proton beam/ Gulper Ghost standard solid yellow [6] [7] [8]
Classic: Egon Spengler
(#642) Version 2, Variant #3
-Error in Packaging-
Packaging for Stay Puft/Egon Figure: white under shirt & grey arm band[9]
Classic: Peter Venkman
(#637) Version 1, Variant #1
Peter Figure: no under shirt paint, /Proton Pack with light yellow proton beam/ Grabber Ghost standard solid blue
Classic: Peter Venkman
(#637) Version 1, Variant #2
Peter Figure: no under shirt paint, /Proton Pack with red proton beam/ Grabber Ghost standard solid blue [10]
Classic: Peter Venkman
(#637) Version 1, Variant #4
Peter Figure: no under shirt paint, /Proton Pack with green proton beam/ Ecto-1 Ghost solid blue
Classic: Peter Venkman
(#637) Version 2, Variant #1
Peter Figure: white under shirt, /Proton Pack with green proton beam/ Grabber Ghost standard solid blue
Classic: Peter Venkman
(#637) Version 2, Variant #2
Peter Figure: white under shirt, /Proton Pack with light orange proton beam/ Boo-Let Ghost standard solid orange [11]
Classic: Winston Zeddmore
(#638) Version 1, Variant #1
Winston Figure: no belt paint, no collar paint, & black under shirt, /Proton Pack with light yellow proton beam/ Chomper Ghost standard solid red
Classic: Winston Zeddmore
(#638) Version 2, Variant #1
Winston Figure: yellow belt, yellow collar, & dark teal under shirt (same as belt gizmo, straps, & boots), /Proton Pack with light yellow proton beam/ Chomper Ghost standard solid red
Classic: Winston Zeddmore
(#638) Version 2, Variant #2
Winston Figure: yellow belt, yellow collar, & dark teal under shirt (same as belt gizmo, straps, & boots), /Proton Pack with green proton beam/ Ecto-1 Ghost solid red
Classic: Winston Zeddmore
(#638) Version 3, Variant #1
Winston Figure: normal belt, & no under shirt paint, /Proton Pack with light yellow proton beam/ Chomper Ghost standard solid red [12] [13] [14]
Classic: Winston Zeddmore
(#638) Version 3, Variant #2
Winston Figure: normal belt, & black under shirt, /Proton Pack with light yellow proton beam/ Chomper Ghost standard solid red [15] [16]
Classic: Winston Zeddmore
(#638) Version 3, Variant #3
Winston Figure: normal belt, & no under shirt paint, /Proton Pack connected with blue cord with green proton beam/ Chomper Ghost standard solid red [17] [18] [19]
Classic: Winston Zeddmore
(#638) Version 3, Variant #4
Winston Figure: normal belt, & no under shirt paint, /Proton Pack connected with red cord with green proton beam/ Chomper Ghost standard solid red [20]
Classic: Ray Stantz
(#639) Version 1, Variant #1
Ray Figure: screaming head, & black under shirt paint, /Proton Pack with light yellow proton beam/ Wrapper Ghost standard solid purple [21] [22] [23]
Classic: Ray Stantz
(#639) Version 1, Variant #2
Ray Figure: screaming head, & black under shirt paint, /Proton Pack with light yellow proton beam/ Gulper Ghost solid mustard yellow
Classic: Ray Stantz
(#639) Version 2, Variant #1
Ray Figure: normal head, & white under shirt paint, /Proton Pack with red proton beam/ Wrapper Ghost standard solid purple
References
Edit