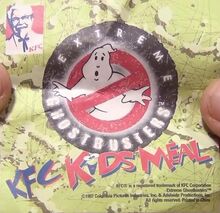 Kentucky Fried Chicken (KFC) in 1997 ran an Extreme Ghostbusters Promotion.
List of Items
Edit
Haunted Cube - Slimer looks surprised to be captured in this cube! Watch him glow on one side and disappear on the other.
Ghost Trap Challenge - Toss the glowing ghost ball to capture it in one of the three cups. One cup is harder than the next! The cup rims glow in the dark for an even bigger challenge.
Screamin' Scrambler - Turn the six-sided cube to mix and match the characters. Turn off the lights for an added glowing surprise!
Ecto-1 Haunted Hauler - Roll the car along and discover a ghost trying to pop-up from the inside! By lifting the roof panel, you'll expose him to light. Watch him glow as he tries to escape!
Ghostbusters Keychain Keeper - Your keychain keeper can be hooked on to a backpack or beltloop. The front logo glows in the dark and the back can be opened to hold most any small treasure.
Slimer Squirter - Squeeze Slimer underwater to fill him up. Squeeze him again to slime your friends! Expose him to light and he glows in the dark.
On the Screamin' Scrambler, the Grundel is misnamed Grendel.
External Links
Edit
References
Edit
Packaging
Edit
Haunted Cube
Edit
Ghost Trap Challenge
Edit
Screamin' Scrambler
Edit
Ecto-1 Haunted Hauler
Edit
Ghostbusters Keychain Keeper
Edit
Slimer Squirter
Edit
Promotional
Edit
Ad blocker interference detected!
Wikia is a free-to-use site that makes money from advertising. We have a modified experience for viewers using ad blockers

Wikia is not accessible if you've made further modifications. Remove the custom ad blocker rule(s) and the page will load as expected.