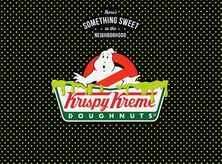 Krispy Kreme Ghostbusters Promotion is a promotion of the Ghostbusters 30th anniversary by the Krispy Kreme chain in Fall 2014.
As a marketing promotion for the Ghostbusters 30th anniversary, Krispy Kreme offered two kinds of marshmallow-filled doughnuts: the Ghostbusters Doughnut and the Stay Puft Marshmallow Doughnut. The Ghostbusters doughnut features white icing, a green splat inspired by Ectoplasm, and a "Ghostbusters" logo sugar piece. The Stay Puft Marshmallow was decorated with white icing, the Stay Puft Marshmallow Man's face and a sugar hat. They were offered between September 29 through October 31, 2014 at U.S. and Canada Krispy Kreme locations. Starting on September 23, customers were allowed to pre-order up to five dozen. [1]
The boxes during the promotion featuring the No-Ghost Sign, ectoplasm, and a spin on the "There's something strange in the neighborhood" lyric, "There's something sweet in the neighborhood."
On page 1 of Ghostbusters International #4, a Krispy Kreme doughnut box makes a non-canon cameo behind Janine Melnitz on the book case. Instead of "Krispy Kreme" appearing on the box, the recurring Hasty Pastry Bakery franchise mascot is used.
On page 12 of Ghostbusters 101 #3, behind Jillian Holtzmann is the Krispy Kreme Ghostbusters 30th Anniversary hanging signage with Slimer, "They're Here", the Stay Puft Marshmallow Doughnut, and Ghostbusters Doughnut.
References
Edit
30th Anniversary Promotion
Edit
Secondary Canon
Edit
Ad blocker interference detected!
Wikia is a free-to-use site that makes money from advertising. We have a modified experience for viewers using ad blockers

Wikia is not accessible if you've made further modifications. Remove the custom ad blocker rule(s) and the page will load as expected.