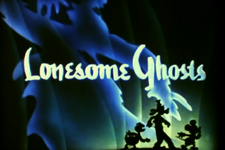 Lonesome Ghosts was an animated short by Disney released in 1937. It features Mickey, Donald, and Goofy as "Ghost Exterminators".
Introduction
Edit
Characters
Edit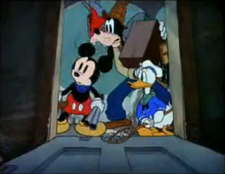 Some of the information here was gathered from The Disney Wiki.

Mickey: He is the leader the crew, and carries a shotgun.
Donald: He is the mouth, and carries a net.
Goofy: He is himself, and carries an axe.
Equipment/Items
Edit
Shotgun
Net
Axe
Pickaxe
Mouse Trap
Rope
Wooden Box (smaller items might have been inside it like the rope)
Reused footage in Disney's DTV Monster Hits
Edit
On NBC a Disney special "Disney's DTV Monster Hits" aired on October 30th, 1987. A music video was made using footage from "Lonesome Ghosts" for the song "Ghostbusters" by Ray Parker, Jr..
Ghost Hunters/Ghostbusters
Edit
References
Edit
Ad blocker interference detected!
Wikia is a free-to-use site that makes money from advertising. We have a modified experience for viewers using ad blockers

Wikia is not accessible if you've made further modifications. Remove the custom ad blocker rule(s) and the page will load as expected.