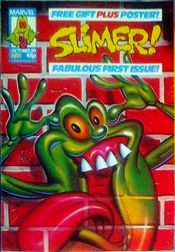 Slimer! is a series of comics produced for the UK. Many look to be reprints of Slimer! NOW Comics, however some use different covers. The comic series is based on the Slimer! animated series which is a spin-off of The Real Ghostbusters. Published by Marvel Comics Ltd.
List of Comics
Edit
Thirteen issues are known to have been released. Some issues mix in "Blimey, It's Slimer!" stripes in with some of the NOW Comics stories.
Collected/Specials
Edit
References
Edit
Ad blocker interference detected!
Wikia is a free-to-use site that makes money from advertising. We have a modified experience for viewers using ad blockers

Wikia is not accessible if you've made further modifications. Remove the custom ad blocker rule(s) and the page will load as expected.