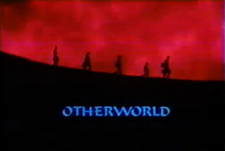 Information was originally found on Cyland Props.
Otherworld was a 1985 Television series that ran 8 episodes before it was cancelled on CBS.
Prop Cameo
Edit
The P.K.E. Meter was seen in the first episode "Rules of Attraction" in the part in the Maintenance/research place in the tunnels. Kommander Nuveen Kroll is using the device to study a hand.
External Links
Edit