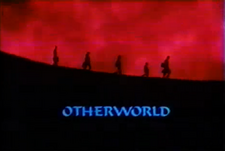 Information was originally found on Cyland Props.
Otherworld was a 1985 Television series that ran 8 episodes before it was cancelled on CBS.
Prop Cameo
Edit
The P.K.E. Meter was seen in the first episode "Rules of Attraction" in the part in the Maintenance/research place in the tunnels. Kommander Nuveen Kroll is using the device to study a hand.
External Links
Edit
Ad blocker interference detected!
Wikia is a free-to-use site that makes money from advertising. We have a modified experience for viewers using ad blockers

Wikia is not accessible if you've made further modifications. Remove the custom ad blocker rule(s) and the page will load as expected.