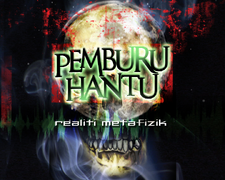 Pemburu Hantu – Realiti Metafizik (Ghost Hunters - Metaphysics Reality) is a 13 episode series on Malaysian 24 hour television network Astro Ria in the fall/winter of 2009. This show is a paranormal reality series much like Ghost Hunters (American television series). This show is only in Malay language. It is not related to the sony franchise.
Introduction
Edit
An paranormal reality style show features hosts Anis Azman (age 18), Hairi Shahrizal Mustafa (25), and Iskandar Ishak (28). This show has in use during the run nine different pieces of real world ghost detection equipment including: closed-circuit cameras, night-vision, hydrometers , heat sensors, motion detectors, and an microfon boom.
External Links
Edit
Ad blocker interference detected!
Wikia is a free-to-use site that makes money from advertising. We have a modified experience for viewers using ad blockers

Wikia is not accessible if you've made further modifications. Remove the custom ad blocker rule(s) and the page will load as expected.