Ad blocker interference detected!
Wikia is a free-to-use site that makes money from advertising. We have a modified experience for viewers using ad blockers

Wikia is not accessible if you've made further modifications. Remove the custom ad blocker rule(s) and the page will load as expected.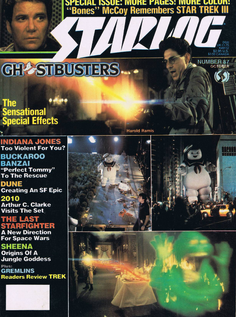 Starlog Magazine is a magazine for retailers.
Ghostbusters Related Issues
Edit
Note that the "(SC)" means that the mag is on Spook Central (Fan Site) and the "(GF)" means it is on Ghostbusters Fans (Fan Site).
#81 April 1984
#84 July 1984
#85 August 1984 (SC)
#86 September 1984 (SC)
#87 October 1984 (SC) (GF)
#88 November 1984 (SC) (GF)
#98 September 1985 (SC)
#103 February 1986
#111 October 1986 (SC)
#140 March 1989 (SC)
#145 August 1989 (SC)
#148 November 1989 (SC)
#164 March 1991 (SC)
Poster Magazine Special Series 1 Volume #3 1985 (SC)
Poster Magazine Special Series 1 Volume #4 1985 (SC)
Poster Magazine Special Series 2 Volume #2 1989 (SC)
External Link
Edit