Simultaneously acknowledging something as not canon, yet respecting it and paying homage to it. Ghostbusters the video game does this right, most franchises are more than willing to completely disown and desecrate the carcass of anything that isnt the main movie . . . . ghostbusters I AM PROUD OF YOU. ralok 14:26, April 15, 2011 (UTC)
The PKE meter's uses and wear in "Ghostfight At The O.K. Corral"
Edit
One interesting thing about the episode is all four Ghostbusters are wearing the PKE meter in the area the Belt Gizmo is usually located. While this isn't the only Time the guys did this, I honestly don't remember it replacing the belt gizmo before. Also, Winston's PKE meter detected one of the gang even without the wings/detectors out. Anyways, any thoughts on this?  Devilmanozzy (Talk Page)  05:26, August 1, 2014 (UTC)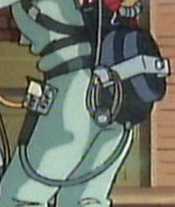 Naturally I found a better spot in the show that shows where the wire goes in the back pack.

 Devilmanozzy

(Talk Page) 

05:44, August 1, 2014 (UTC)

Thought it was weird the P.K.E. Meter detected Virgil, or whoever it was. But we're talking about a show where the meter was used to do other weird things like sending SOS signals to ghosts and outright blowing up. I chalked it up to the ghosts having more concentrated P.K.E. than an average dead person considering they were able to continuous shoot ecto bullets no problem compared to the Spectral Ghostbusters and were bound by the strong desire to have another showdown so maybe more powerful ghosts can set off a P.K.E. Meter even if it's off or in standby mode. Or some guy messed up on the storyboard. Mrmichaelt (talk) 05:47, August 1, 2014 (UTC)

I think it is clear that they had it planned out as the wire to the PKE Meter goes to the pack. If a mistake was made, it would be in script writing phase or was overlooked by crew. It is interesting to watch the equipment be set up like this.

 Devilmanozzy

(Talk Page) 

05:56, August 1, 2014 (UTC)
Ad blocker interference detected!
Wikia is a free-to-use site that makes money from advertising. We have a modified experience for viewers using ad blockers

Wikia is not accessible if you've made further modifications. Remove the custom ad blocker rule(s) and the page will load as expected.