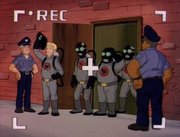 Teenage Mutant Ninja Turtles episode: Zach and the Alien Invaders is a cartoon from season five and had a parody in the form of a team called Bugbusters.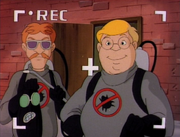 Instead of paranormal scientists that hunted ghosts, they were exterminators who killed bugs. Interestingly, the first, second, and third look like Peter, Egon, and Ray. Zack sees them while reading a comic book and mistakes them for aliens he saw in his comic book. After a big riot, Zack gets in trouble. Two other interesting things are that the Bugbusters have a no-bug logo instead of a no-ghost logo and were a nod to The Real Ghostbusters, as Francis Moss wrote for both TMNT and RGB. It is also noteworthy that both the Ghostbusters and the Teenage Mutant Ninja Turtles are groups of four and they both first appeared in 1984. The Turtles first appeared in a comic book published by Mirage Comics in 1984 and the first Ghostbusters movie was released the same year. Both franchises also had at least two animated TV shows and many video games, as well as being franchises that have originated in the mid-80's and still live today. The Real Ghostbusters also paid tribute to the Teenage Mutant Ninja Turtles when the villains in Mean Green Teen Machine were three (not four) adolescent reptilian creatures who liked pizza.
External Links
Edit
Ad blocker interference detected!
Wikia is a free-to-use site that makes money from advertising. We have a modified experience for viewers using ad blockers

Wikia is not accessible if you've made further modifications. Remove the custom ad blocker rule(s) and the page will load as expected.