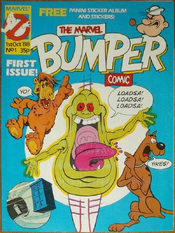 The Marvel Bumper Comic series was a UK published comic series. It was a collective reprint pieces from previously released comics. It featured The Real Ghostbusters and Slimer for the run. Published by Marvel Comics Ltd.
List of Comics
Edit
The comics print run went from issue #01 (October 1, 1988) - #31 (July 22, 1989). Note the first 13 comics go by a bi-weekly schedule and then they switch to weekly for the rest of the run. One Holiday Special comic was also released.
References
Edit
Ad blocker interference detected!
Wikia is a free-to-use site that makes money from advertising. We have a modified experience for viewers using ad blockers

Wikia is not accessible if you've made further modifications. Remove the custom ad blocker rule(s) and the page will load as expected.