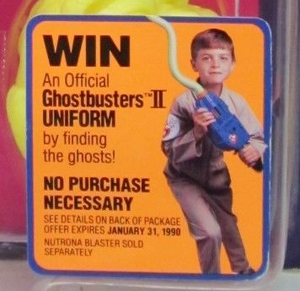 The Real Ghostbusters "Find the Ghosts" was a promotional contest in the year 1989 to promote Kenner's Real Ghostbusters line and Ghostbusters II.
This is the third American Kenner promotion involving The Real Ghostbusters. The promotion also ties the Ghostbusters II film to the Real Ghostbusters. Locations used on the map include: Court House, Firehouse, Art Museum, Statue of Liberty, Dana's apartment, Central Park, and the Titanic. Peter and the Firehouse are based on The Real Ghostbusters and not the film. The prize Ghostbusters II Uniform/Jumpsuit was produced by Prosperity (USA), INC.
Information/Write-ups
Edit
Front Sticker
Edit
WIN
An Official Ghostbusters II UNIFORM by finding the ghosts!

NO PURCHASE NECESSARY
See details on back of package
Offer Expires January 31, 1990
Nutrona Blaster sold separately

Back Sticker
Edit
"FIND THE GHOSTS" CONTEST
help PETER VENKMAN track down the troublesome Scoleri Brothers ghosts from the Ghostbusters II movie with your own ghost-seeking Geigameter viewer. Inside this and other specially marked packages is a special ghost-hunting map and Geigameter viewer to help you find the ghosts and win an official ghostfighting uniform as pictured here OR to play without a purchase, send a self-addressed stamped envelope to:
Gamepiece
P.O. Box 5595
Stacy, MN 55079

Directions at Top of Map
Edit
Peter Venkman has been separated from the other Ghostbusters. The fearsome Scoleri Brothers ghosts are causing trouble in the streets of New York. Peter needs your help to follow the Ecto-Plazm trail and find the Scoleri Brothers. They may be hiding in one of the designated locations on your map. Use your own ghost-seeking Geigameter viewer to find them. Place the red lens over each map location. If the image of the Scoleri Brothers ghosts appears, you are a winner! (See Official Rules on reverse side.)
List of Toy's that Stickers appeared on
Edit
Some images were provided by David Boozer.
Ad blocker interference detected!
Wikia is a free-to-use site that makes money from advertising. We have a modified experience for viewers using ad blockers

Wikia is not accessible if you've made further modifications. Remove the custom ad blocker rule(s) and the page will load as expected.