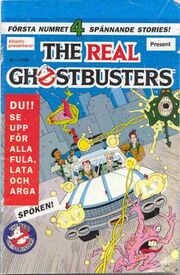 The Real Ghostbusters comic series (mostly Marvel Comics Ltd with a few from America's NOW Comics) was reprinted Atlantic Publishing in four different languages: Swedish, Norwegian, Dutch, and Danish. It is believed that a total of 25 issues were released for Swedish. Some of the later issues started mixing up content and not being straight forward translations. Omnibus was also released
Each language has a locally translated name for the publisher. Known publisher names: Atlantic Förlag (Swedish) and Atlantic Presenterer (Norwegian).
List of Comics
Edit
References
Edit
Swedish language
Edit
Norwegian language
Edit
Dutch language
Edit
Danish language
Edit
Ad blocker interference detected!
Wikia is a free-to-use site that makes money from advertising. We have a modified experience for viewers using ad blockers

Wikia is not accessible if you've made further modifications. Remove the custom ad blocker rule(s) and the page will load as expected.