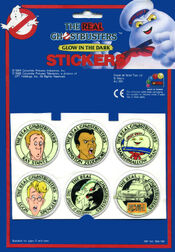 The Real Ghostbusters: Glow In The Dark Stickers are a sheet of six puffy stickers that were released by Jotastar (Cowan de Groot Toys Ltd.) in 1986. The stickers on the front feature the major characters, though Peter is notably absent. The back of the sheet contains a re-drawing of the famous Real Ghostbusters promotional image of the guys in Ecto-1 with Stay Puft behind them, intended to be colored in.
There are four variations of sets of stickers.
Sticker Designs
Edit
Ad blocker interference detected!
Wikia is a free-to-use site that makes money from advertising. We have a modified experience for viewers using ad blockers

Wikia is not accessible if you've made further modifications. Remove the custom ad blocker rule(s) and the page will load as expected.