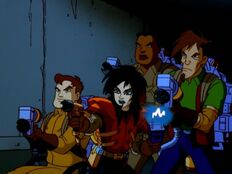 Over the course of 2 months, Ghostbusters Wiki has had a major reworking and updating of the "Extreme Ghostbusters" section.
Pretty much this was Mrmichaelt's baby the whole way. However, in addition I added some collages and updated the Extreme Ghostbusters credits article.

The Total number of added EGB related articles was 182, but noting that there was almost a complete overhaul of all EGB articles, that had been previously made also. The articles were mostly characters, locations, and items. All articles had screen caps as well, and while there is no clear number of images added, it must have been way over 2000. All this was done by Mrmichaelt.
There were 202 Collages/Edits were added as well as getting all 40 episodes of EGB credits typed and accounted for.
Highlights:

Here is a gallery showing off some of the pictures.
Ad blocker interference detected!
Wikia is a free-to-use site that makes money from advertising. We have a modified experience for viewers using ad blockers

Wikia is not accessible if you've made further modifications. Remove the custom ad blocker rule(s) and the page will load as expected.