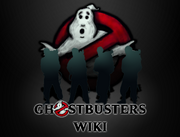 Our biggest problem has been staying connected with the Ghostbuster Community. So after failing to get a group off the ground at Facebook, I went with step B, which is to do a page. A page unlike a group is about the content of a place, person, or thing. So the page has begun.
I will use it as a means to promote our work here, and to get heads up to things being posted by other Ghostbuster related sites. Been seeing more interest in our site already, so that is a tip off we are doing the right thing here.
Currently I am the sole maintainer of the Ghostbusters Wiki(a) Facebook Page, but if any fellow Administrators want to update or be co-admins there, by all means ask me.
Anyways, even if you don't like Facebook, I hope you will find the new Facebook feed on the front page helpful.
Ad blocker interference detected!
Wikia is a free-to-use site that makes money from advertising. We have a modified experience for viewers using ad blockers

Wikia is not accessible if you've made further modifications. Remove the custom ad blocker rule(s) and the page will load as expected.