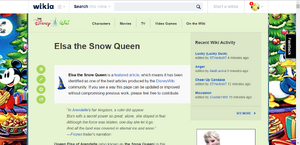 Wikia has a lovely new blog to read on Community Central "Prototype for a new article layout".
Here We Go Again... This is another major changes type of thing. It has some positives and negatives. Shall I list them?! I did so later in blog.
Roomy
Yeah. After scrolling past the "Recent wiki activity" section, the text area gains over 100 pixels horizontally, and with padding on the left and right of 240 pixels combined.
Infobox/Bio Blues
Yeah, there is major issue. "Recent wiki activity" section is now right in the way of the bio. This reduces the area seen of the bio at the top of the screen to around 65 pixels vertically. So there be what sucks.
Typography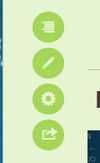 Oh the thing with buttons on the left... Yeah that thing.
The Typography is the replacing: "Contents" which is the headings of the article, "Edit this Article" drop-down, the tool bar on the bottom, contribution drop down (right near top... No one knew it was there anyways), and the Share feature.
Small Article AD Congested
Small articles really got it with this. One line of text and look at all those ads. (Example)
Overall
Positives
More room for content.
Tools now all at the top left in gear bubble. More convenient.
Negatives
Makes infobox/Bio not show fully at the top of article thanks to "Recent wiki activity" widget.
The ads at the bottoms of the pages are a major eyesore.
Gallery
Ad blocker interference detected!
Wikia is a free-to-use site that makes money from advertising. We have a modified experience for viewers using ad blockers

Wikia is not accessible if you've made further modifications. Remove the custom ad blocker rule(s) and the page will load as expected.