Note: this is a update in many ways to my User_blog:Devilmanozzy/My_Year_End_Round_up_(Louis_Tully_Style!)
It is coming to that time of year again. School is getting out, and Ghostbusters Wiki will be hit by new interested fans. At least based on stats the last two years, this seems to be the case.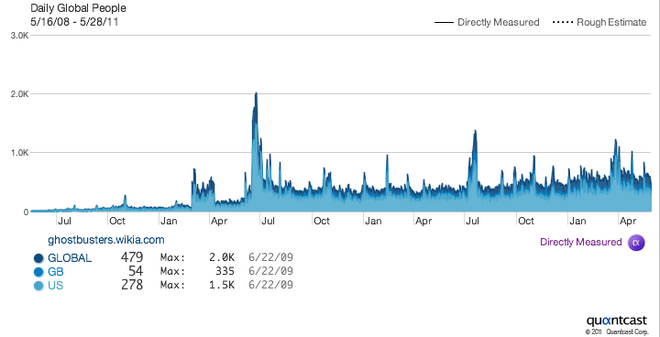 And some rough numbers also showing this trend...

So, what does this mean and why am I talking about this? .... Well we need the wiki up to code in every way we can. On the front, I'm focusing on making the new Slide Panels, which I hope will make the wiki easier to use and find things when finished. We have now Ghostbusters_Wiki:Introduction, which a link was placed on the front slide, and in the "Welcoming New Fans of Ghostbusters!" section to it.
I need help with the Introduction page, getting all issues addressed that we can foresee happening. I need more help and comments on the Forum:New Design for the Wiki Background Layout/New Logo thread. I also want that voted in as the new look as soon as I throw it on the Ghostbusters Wiki:Voting on Matters so it can be approved and then uploaded.
Another thing that concerns me is that we need to be open and understanding when new users may not be to properly editing the wiki articles. Hold off the bans and try to be friendly about it. Undo or delete, then write them, telling them why on they talk page, and point to the introduction page and policies they may need to be aware of. Anyways...
For more Statistics go to: quantcast and WikiStats (by Wikia themselves).
Ad blocker interference detected!
Wikia is a free-to-use site that makes money from advertising. We have a modified experience for viewers using ad blockers

Wikia is not accessible if you've made further modifications. Remove the custom ad blocker rule(s) and the page will load as expected.