Ad blocker interference detected!
Wikia is a free-to-use site that makes money from advertising. We have a modified experience for viewers using ad blockers

Wikia is not accessible if you've made further modifications. Remove the custom ad blocker rule(s) and the page will load as expected.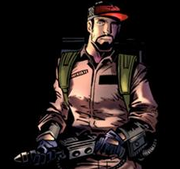 Ghostbusters: Sanctum of Slime
has been the talk for the last 4 months, but while I have been playing it, I found it would freeze and as of late shut down my computer at points in the game. Well I found the problem, when it runs (menu screen anyways) it took up 50% of my CPU. In comparison
Ghostbusters: The Video Game (PC)
took up 11% Cpu on my computer on menu screen. This explains the issues I'm having.
However, I have also found a phantom program on my computer tied to Nokia (cell phone computer) that was sucking up 11% of my cpu as well. I should now be over my freezeing/crashing problems. But one has to wonder why this game takes up so much memory.